PRE- AND POST EVENTS
The FIG Working Week has been cancelled. This means that all the pre- and post-events have been cancelled too. This is not a decision we have taken lightly and there are two overriding concerns that have caused us to make this decision at this time.
First, the Dutch Government announced new measurements to control the COVID-19 outbreak. In the Netherlands all gatherings are prohibited until 1 June.
Second, our primary concern is always the wellbeing of you, and we would not take on the responsibility, during these times, to bring so many surveyors from all over the world together.
If you have signed up for one (or more) side events the organisers will get back to you as soon as possible.
---
The pre-events will take place at the VU - Vrije Universiteit Amsterdam. The VU is located nearby the RAI. You can take the metro, bus or walk. Withing 30 minutes you can be from one location to the other.
---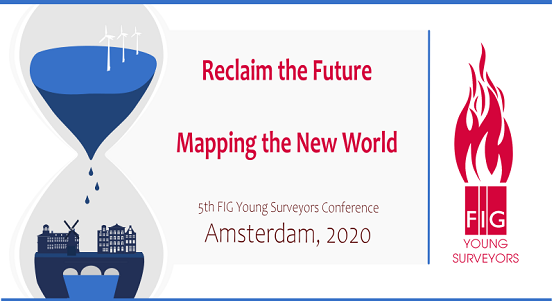 ---
Title
Scaling Up – Fit For Purpose Land Administration
Date
Saturday 9 May 2020
Organisers
Kadaster International & ITC University Twente
Location/room
Aurora
Description
Since the joint FIG/World Bank publication (FIG Publication No. 60), 6 years have passed. Whilst the Fit-For Purpose Land Administration approach is embraced and applied by an increasing number of countries, stakeholders and academia, there is also criticism, questions and obstacles that need to be addressed when discussing scaled-up or whole-of-country opportunities and approaches. The 2030 Agenda with its Sustainable Development Goals calls for tenure security for all, which can most efficiently be reached by applying Fit-For-Purpose Land Administration and with its 3, frameworks legal, spatial and institutional.

This pre-event is a continuation of the special session held at the FIG-Working Week 2019 in Hanoi. It aims to fully explore the pros and cons of FFP LA, based on experience gathered through practical implementations. The pre-event is sponsored by the School of Land Administration (a joint venture between Kadaster International and ITC Faculty of Geo-Information Science and Earth Observation.
Fee
For more information, please click here
---
Title
Plastic Mapathon - hackaton focusing on finding innovative ways to map plastic (Saturday 9 May 2020) & Plastic Survey (Sunday 10 May 2020)
Date
Saturday 9 May and Sunday 10 May 2020
Organisers
FIG Working Group 4.3 - Mapping the Plastic and FIG Young Surveyors Network
Location/room
Aurora
Description
This plastics survey (all day event) aims to:

Raise public awareness of the plastic waste problem;
Raise the awareness of the FIG Working Week, FIG, the UN SDG's particularly SDG 14
Develop surveying techniques for citizen surveying and WG4.3 volunteers to undertake plastic waste surveys at hotspots around the world
Develop data processing and reporting techniques for future surveys
Report the survey findings once the data is processed

Goal/focus
To investigate the extent of existing information on plastic pollution of waterways in the Netherlands/Europe through formal survey datasets held by governments and academia. To develop techniques for collecting this information formally as part of future contract specifications for marine/river surveys or through dedicated plastic surveys and informally through citizen science/crowd sourcing techniques and how to apply these formal and informal techniques to 'hot spots' locally, within the EU and throughout the world, particularly third world countries with a lack of first world infrastructure.
Fee
€ 70,00
Max.part.
There is a limited number of participants of 40 people
For more information, please click here
---
Surveying and BIM Classroom

Title
Surveying and BIM Classroom
Date
Saturday 9 May
Organisers
FIG Commission 10
Location/room
Aurora
Description
Building Information Modeling (BIM) is changing the way how surveyors work, think, collaborate and earn money. Using and sharing multidimensional digital representations of buildings are the driving forces for the digitalization of our work. This affects many tasks surveyors and GIS professionals perform, e. g. cost estimation, GIS analysis, engineering surveying, construction work, land management and facilities management.
Goal/focus

Teaching theoretical background of the BIM method (concepts, workflows and standards)
Best practice presentations from large projects and SME (from surveyor's point of view)
Presentation of the latest software (surveying, integration and collaboration with BIM, CAD, GIS)

Fee
€ 70,00
Max.part.
For more information, please click here
---
Title
Parcel Management Workshop
Date
Sunday 10 May 2020
Organisers
Esri
Location/room
Aurora 3
Description
Parcel management hands-on workshop. Bring your parcel data and laptop – leave with your data in the modern, survey-based land administration technology
Goal/focus
Migrate your 2D and 3D parcel data into the parcel fabric. Learn how to configure your information model.

- Understand the effiencies gained by GIS-based parcel management
- Learn how to perform common parcel workflows on different clients.

Use data quality management tools and configure your business rules

- Leave this workshop with your data in the most modern land administration technology - and how to use it.
Fee
Max.part.
There is a limited number of participants of 30 people
For more information, please click here
---
Title
A comprehensive tour on Dutch land- and water management
Date
Thursday 14 May 2020
Organisers
FIG Commision 8, Radboud Univeriteit & Nuffic
Location/room
Rotterdam
Description
An exclusive journey on integrated spatial planning and development, starting at the historical Fort Vechten and finishing in the vibrant port city of Rotterdam. During the journey participants will be able to experience the Dutch urbanised delta and its historical and contemporary assignments in spatial planning including the process of land readjustment. The programme combines visits to historical structures with contemporary technology (e.g. GIS and sensor technology for monitoring water levels) and high style architecture. It is a unique opportunity where professionals and scientists will be sharing inside stories of their role in land and water management.

The tour will take one full day and will be organized on Thursday the 14th of May
Goal/focus
The FIG Working Week 2020 in Amsterdam provides a chance to impress an international professional audience with Dutch planning and engineering practice. The aim is to inspire and expand the national and international network, and to further enhance collaboration between professionals and institutions in the field of surveying.

The tour will be organised as a post-event as part of the FIG Working Week 2020 in Amsterdam, under the supervision of FIG commission 8. Visitors can prolong their stay in Amsterdam or choose to pursue lodging in Rotterdam on their own expenses. Possibly the tour will be open for other professionals including students and scientists in the field of surveying.
Fee
€ 70,00
Max.part.
There is a limited number of participants of 50 people

For more information, please click here