FIG Foundation - Building a Sustainable Future

Report from Ruth L. Trujillo Rodriguez
FIG Foundation Young Surveyor Grant Recipient to attend the FIG Working Week 2019 in Hanoi, Vietnam
"First and foremost, I would like to thank FIG for giving me the opportunity to apply for the Young Surveyors Grant to attend FIG Working Week 2019 in Vietnam. I felt exceptionally grateful and honored to be able to participate in such a remarkable event. "
My first experience during the beginning of the event was attending the Young Surveyors Network Meeting. During the meeting, I met dozens of young surveyors from all over the world. I was also able to learn about the responsibilities all the FIG Commissions have and how they contribute to the profession.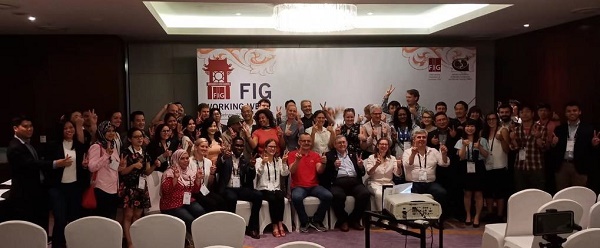 I also learned a lot about many subjects related to our profession, since we participated on seminars and educational fun activities.
An important aspect in every organization is to contribute not only to the professional community but to the society in general. I was very pleased to participate in the Charity Dance. It was a very fun activity with a beautiful and meaningful purpose.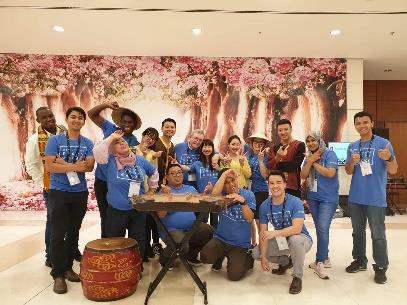 We all danced to Vietnamese music!
Another educational and fun activity with members of the Young Surveyors Network was the field trip around Hanoi. I learned many details of the Vietnamese culture. My perspective of the world was expanded.
I was thrilled to meet many women surveyors during our trip. Women from different countries and religions coming together to learn about another culture.
The Working Week started, and I participated not only to the opening event but to many presentations.
I was also able to participate in a cycling tour, visiting many historical places.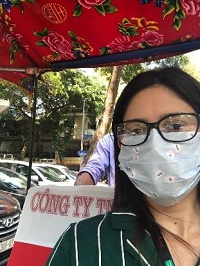 Having to wear a mask due to the high pollution was a new experience for me. Little did I know, that a year later, I will be wearing a mask in my own country due to a pandemic.
During the presentations and seminars, it was enthusiastic to see surveyors from so many different countries. I felt humble to be part of an event that makes all of us feel like one, like we are all important to the profession.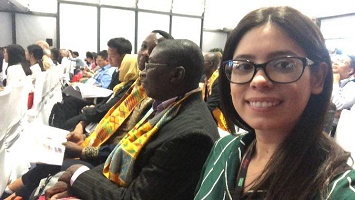 During the plenary, I learned many aspects of secure land tenure. I was not aware of the difficulties that they experience in many countries. I think that one of the best lessons I received was the message that the President gave us about volunteering for the future. It is volunteer work that can make the difference in this world.
At the end of the event, I humbly participated during a presentation of the Young Surveyors Grantees.
I want to thank FIG for this experience and Mr. John Hohol for giving me the opportunity to be part of the surveyors that represented the USA delegation and talked about the FIG 2023 Working Week.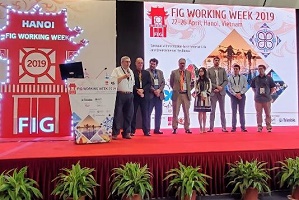 I look forward to participating in many FIG events. Every time I have the opportunity, I encourage Puerto Rican Surveyors to do the same. I hope we can celebrate the FIG 2023 Working Week in Orlando, Florida with a major representation of Latin countries.
/Ruth L. Trujillo Rodriguez