President TEO CheeHai visits China Institute of Real Estate Appraisers and Agents
25 July 2011, Beijing, PR China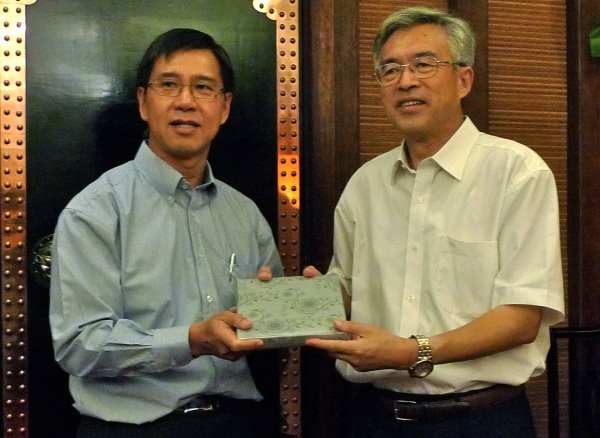 President CIREA, SONG ChunHua [R] with FIG President TEO CheeHai [L]
The China Institute of Real Estate Appraisers and Agents is one of the two FIG member associations from PR China. Its national delegate, Prof. Dr. Liao (廖俊平) is an active member of FIG Commission 9 and was recently appointed as a Member of the FIG Task Force on Property and Housing.
President TEO CheeHai was warmly received at the Institute's office in Beijing by Dr CHAI Qiang, the Institute's Deputy Executive President and Secretary General, Dr WANG Xia (Ms), Assistant Secretary General, Ms LI Juan and Ms ZHANG Xiaolu from their Training, Communication and Research Centre as well as Prof. Dr. LIAO, Vice President of the Institute responsible for international relations. President TEO later met President of CIREA, Mr SONG ChunHua over lunch.
After a brief introduction of CIREA, Dr. CHAI expressed CIREA's desire to connect and network with similar organizations within FIG particularly those with responsibilities in the area of property taxation, housing and real estate policies. Dr. CHAI and President TEO also discussed the current level of membership fees as well as benefits of membership and in this regard, CIREA is encouraged to tap the knowledge bank within FIG, in particular the extensive publications and have it translated into Chinese for the benefit of its membership and the wider audience within PR China. CIREA is also encouraged to actively participate in FIG activities, in particular those that are related to the practices and responsibilities of its membership.
During the lunch meeting, President SONG and President TEO explored further the possibility of FIG supporting some of CIREA's national activities and President SONG reiterated CIREA's desire and willingness to host commission level symposiums and workshops in China as part of its effort to further develop the profession, provide exposure for its membership and promote local practices. In particular, CIREA is willing to host and co-organize with the FIG Task Force on Property and Housing a workshop related to adequate and affordable housing policies and program in China in October 2012.


CheeHai TEO
President
29 July 2011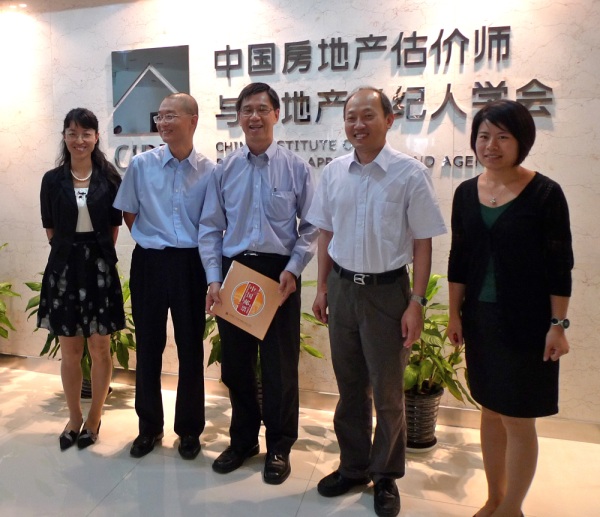 L – R: Ms LI Juan – Training & Communications; Prof Dr Liao – Vice President and National Delegate to FIG; President Teo, Dr. Chai Qiang Deputy Executive President/Secretary General; Dr. Wang Xia – Assistant Secretary General at the entrance foyer of CIREA's National Office in Beijing
10 August 2011