China Land Surveying and Planning Institute, Ministry of Land and Resources visits the FIG Office and Honorary President Stig Enemark
26 September 2011, Copenhagen, Denmark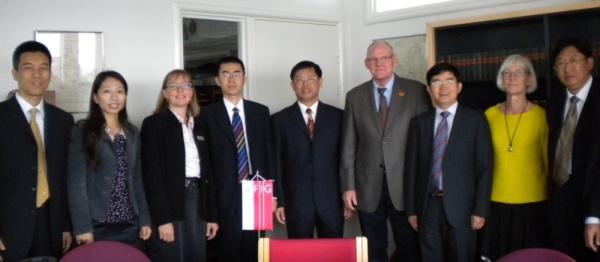 TThe Chinese Delegation from the Ministry of Land and Resources at the FIG Office with FIG Honorary President Stig Enemark
The FIG Office hosted a delegation from China Land Surveying and Planning Institute, Ministry of Land and Resources who came to visit the FIG Office, and to explore about FIG, the Danish Association of Chartered Surveyors and Aalborg University. The delegation was represented by Chief Planner Hu Cunzhi , Ministry of Land and Resources, Deputy Director General Liu Guohong, Department of Planning, MLR, Director Wang Aimin, Department of Macro-control and Monitoring, MLR, Senior Staff Fei Yue Department of Science & Technology and International Cooperation, MLR, Senior Engineer Xu Xiaoli, China Land Surveying and Planning Institute, MLR, Director Gong Zhigang, Department of Land and Resources, Hebei Province, Director Zhang Jin, Land and Resources Bureau of Development Zone in Qin Huangdao, Hebei Province.
The purpose of the meeting was to deepen mutual understanding and strengthen the cooperation between MLR and the global surveying community. Honorary President Stig Enemark was present during the day and he also gave a presentation on Land Governance in support of the Global Agenda. The meeting was hosted by Mrs. Louise Friis Hansen, FIG Office Manager and Mrs. Hanne Elster, FIG Office Coordinator.
In the afternoon The National Survey and Cadastre, Denmark was represented by Deputy Director General Søren Reeberg Nielsen and Project Manager, Dr. Christian Thellufsen who gave a presentation on the Danish cadastral system.
The day held some very fruitful and open discussions on cadastral and land administration systems and their benefit to society.

| | |
| --- | --- |
| On behalf of FIG, Honorary President Stig Enemark receives an extraordinary gift from Chief Planner Hu Cunzhi, Ministry of Land and Resources, which is a Weihe dated back to the Gongwang Period of Xi Zhou Dynasty (946-935 B.C. which records an act of the signing of a farmland transfer contract. | Chief Planner Hu Cunzhi studies the old surveying equipment at the FIG Office. The surveying equipment belongs to the Danish Association of Chartered Surveyors |
14 October 2011