News in 2019

Commonwealth Association of Surveying & Land Economy (CASLE) Golden Jubilee Conference 2019: 'The surveying profession; past, present & future'
Thursday 12th - Friday 13th September 2019, London, UK
FIG Vice President Dr Diane Dumashie attended the CASLE Golden Jubilee Conference held in London, on 12th and 13th September 2019, the 2 day deliberations themed: 'The surveying profession; past, present & future' concluded with the CASLE General Assembly.
The theme, learning from the past, present and to inform the future is timely and mirrors many professional organisations' consideration of how they continue to operate to better their members ability to benefit society's needs.
Interestingly, this reflection coincides with the maturing of several organisations, that is CASLE's Jubilee year is shared with other sister organisations including 70 years of the Commonwealth of Nations, and closer to home, 50 years of the Ghanaian Institute of Surveyors, and last year, 150 years of the Royal Institution of Chartered Surveyors, to name but a few. Importantly we have all grown together and will continue to do so.
Invited by CASLE President Joseph Segun Ajanlekoko, throughout the 1½ day deliberations Dr Diane Dumashie undertook the key role as rapporteur- her full report can be found [here].
The Opening Ceremony of the CASLE Golden Jubilee Conference took place at the Garden2 Suite at Etc. Venues in Pimlico. The Session leader, Professor Dr Alan Spedding set the scene and introduced by Dr Nabeel Goheer, Assistant Secretary General of the Commonwealth Secretariat, who gave a short address about the Commonwealth and officially opened the conference.
Dr Nabeel Goheer, pointed out two key objectives for CASLE's future consideration, to maintain our relevance and our added value. This echoes President Joseph Segun Ajanlekoko address in 2018 when he reminded us that CASLE is in a period of stocktaking, i.e. asking "Why and What do we wish to do in CASLE in the future". Here in 2019, his opening highlighted that CASLE's DNA is represented by: courage, vision, enterprise, commitment; but above all sacrifice.

"To achieve and sustain our [CASLE] DNA is indeed the cause of this celebration and gathering thus in the next 50 years we must take time to redefine, re-evaluate our DNA, as the way we live and work is rapidly changing and we are constantly now more than ever before facing many new challenges, technological development is fast changing the narratives. We must ensure that CASLE is not left behind in these new challenging times. Above all, CASLE must remain an institution fit for the 21st Century!"
Mr Joseph Olusegun Ajanlekoko
Interwoven into professionalism is the principle of ethics, Surv Kwadwo Osei Asante Global Chairperson of the International Cost Engineering Council (ICEC) echoed this in his welcoming address, adding the importance of standards and networking especially mutual strategic alliances such as CASLE and ICE (and others). These alliances need to be encouraged to enable the growth and resilience of our societal contribution.
The keynotes brought to mind that "The future is already here; just not evenly distributed" (R & D Susskind), this impacts on the relevance of the future of all professional disciplines not only those in the land and natural resources sector.
To delve deeper into the theme, highly resourceful and eminent distinguished speakers were assembled. Dr Diane Dumashie, Rapporteur summed up the session deliberations followed by a discussion on all the presentations and conclusions from the two day conference. Her report may be found [here].
Day one of the conference:
The remarks are set in the context of two global trends that are impacting our societies: urbanisation and digital inter-connectedness.
| | |
| --- | --- |
| The New Urban Agenda (UN Habitat's high level global agenda), articulates the central role that land has in urban and rural development. The key thematic areas in this agenda are: governance structures; social inclusion; spatial development; urban prosperity; and environmental sustainability. This combined with the SDGs gives a powerful collective global sustainability agenda. The global sustainability agenda is an important call for societal transformation; but it is also provides a framework for the language of the global collective; we have a shared vison, and in our own ways able to implement the necessary adaptations in a language that we can all understand within our own sectors, thus working towards a holistic approach. | |
In brief overview, the presentation focus included
Session one: 'Action in emergency: managing construction's use of the world's scarce resources, Professor John Connaughton (Reading University) and 'Logistics & Industrial Property' was given by Mr Ian McRae (Chadwick McRae).
Session two: 'The future of construction law in the built environment with reference to the Commonwealth' Dr Jim Mason (Associate Head of Department, Built Environment Programme, University of the West of England). Followed by 'changing dynamics in land administration: causes and effects' Mr James Dadson (CASLE Africa Region President) and the closing session paper 'The future of surveying: learning from the past: how good are valuers at change? Presented by Prof Sarah Sayce (Reading University)
Session three: 'High Seas Treaties' by Dr Tom Appleby, Associate Prof in Property Law (University of the West of England) followed by Mr Owen Hewlett (Chief Technical Officer, Gold Standard Foundation, Switzerland) who gave a presentation on 'Climate Emergency in the Built Environment.
Left to Right Mr Joseph Olusegun Ajanlekoko, CASLE President Prof Sarah Sayce, Mr Gbenga Olaniyan
The afternoon session closed with a presentation entitled 'Real Estate Practice in Africa: where are we? given by Mr Gbenga Olaniyan (Gbenga Olaniyan & Associates Estate Surveyors & Valuers).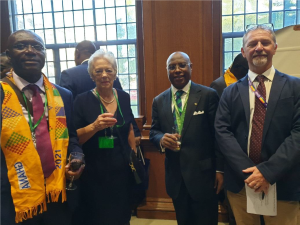 L to R Mr James Dadson, CASLE Africa Region President, Mrs Susan Spedding, Secretary General, Mr Joseph Ajanlekoko, President, Mr James Kavanagh, RICS Director of Lands
Delegates and speakers from the CASLE Golden Jubilee Conference were invited to a reception hosted by RICS at RICS Headquarters in Parliament Square, Westminster, London on the evening of Thursday 12th September. An address of welcome was given by Mr James Kavanagh and both Mr Joseph Ajanlekoko and Mrs Susan Spedding gave a short address and thanked James and RICS for the very generous reception which was greatly appreciated. Apparent from the 'bonhomie' that developed during the evening, everyone enjoyed the occasion.
Day Two of the conference took place in the City and Guilds Building, Imperial College in South Kensington and was chaired by Mr James Dadson, Africa Region President. The morning's session four started by Mr James kavanagh (RICS Director of Lands) presenting on 'Land valuation & effective transfer/acquisition – essential for emerging and informal markets'. The second speaker was Ms Christin Walter (Ordnance Survey), who gave a presentation on 'UN Integrated Geospatial Information Framework'. The morning session concluded with a presentation entitled 'Better Access to Geospatial Data to support housing development' by Mr Hugh Phillips (Cabinet Office, UK Government).
The presentations are now available on the CASLE website under 'Conferences' – www.casle.org
The CASLE General Assembly followed in the afternoon of Friday 13th September at the City & Guilds Building, Imperial College. CASLE Officers were re-elected until the next General Assembly in two years-time. There was only one change to the Management Board which was the election of Dr Jim Mason, as CASLE Europe Region Vice President. Details of the Management Board are available on CASLE web site.

Diane Dumashie
December 2019